Food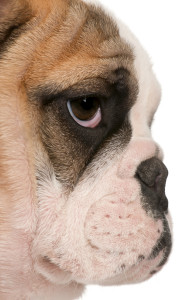 Although your pet bulldog is an integral part of your family, it is imperative never to feed them human food.  Always consult with your veterinarian on the proper food diet for your precious bulldog.
Bulldogs have a passion for food.  Bulldogs are inclined to be more passionate about eating since they have a combination of less taste buds but greater sense of smell compared to humans.  Therefore, you have to properly manage their food quality and intake.
We researched bulldogs and bulldog foods and found that it is recommended that you feed them twice daily and at a consistent time.  The amount you feed depends upon your dog's age, weight, health, and activity level. Their food should be specially formulated for Bulldog breeds to help maintain their health and should be consistent.   Bulldog food should contain the proper vitamins for health, meat protein & fiber for digestion and Omega 3 to promote healthy coat along with their adorable wrinkly skin.  A solid dry dog food is better for their teeth than a soft, wet dog food. If you are already a bulldog owner, then you know that bulldogs can be very gassy so finding the right bulldog food formula can be good for both your dog and your household.  Our English bulldog had a very sensitive stomach so we switched to a specially formulated English bulldog food from a brand called Royal Canin and it worked so much better than all the other dog foods we tried.  Our friends with French Bulldogs had a similar experience after switching to Royal Canin bulldog food.
Bulldog puppies require a different formula for their specific needs.  Royal Canin also created a special formula for bulldog puppy food.  This formula is designed to aid the puppy's natural immune system with both Vitamins E and C, digestive health, joint support, and even has a custom wave-shape to the kibble to make it easier for bulldog puppies to grasp and chew since their lower jaw typically extends out in front of their upper jaw.
Other brands we see that are rated well for best bulldog food are Natural Balance and Instinct Grain Free.  I personally have not tried these brands yet so I do not have any personal insight.
Bulldogs should always have a fresh source of water.  They require a larger opening type bowl with a no tip or slide type of design since bulldogs have large jaws and tend to be a bit clumsy at times.   We recommend that you stay away from plastic bowls since they become scratched and then harbor bacteria within the scratches and some plastics may emit chemicals.  Be careful with ceramic or stoneware dog bowls in that they can contain a trace of lead in the glaze.  Stainless steel dog bowls seem to be the best choice these days since they are durable, and do not rust.
Remember; always consult with your veterinarian on the proper food diet for your precious bulldog family member.
We hope that you found this back-to-the-basics type article useful and informative.  To learn more about bulldogs, please also visit our English Bulldog Rescue, French Bulldog Rescue, and Bulldog Breeds areas of our website.